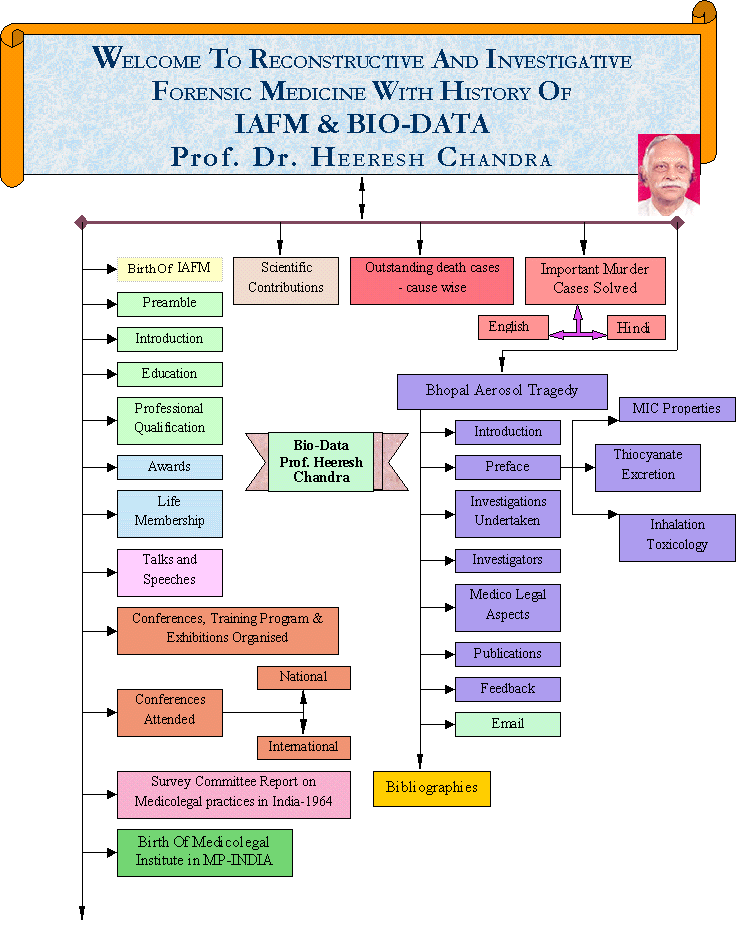 Message from Prof. (Dr.) Heeresh Chandra :
---
Power of observation and power of reasoning and logic is the code of success in developing the subject.
If Medicolegal expert wants to help Judiciary & Investigative agency he must co-ordinate Commonsense, Logic & Reasoning to make it science through the method of Reconstructive and Investigative Forensic Medicine.
Books will give the basics but not the articulation. If you want to examine, 10 Strangulation, 10 Drowning, 10 Burning cases etc., non of them will be similar to one another. The books write, say 100 points for each subject, no more than 80-90% will represent in a case.
Forensic Medicine is a Confluences of all Subjects

---

Quotes
Kipling
I keep six honest serving man ( They tought me all I know )Their names are What and Why, and When and How, and Where and Who.
Prof. Dr. Heeresh Chandra
As Stetho and BP Instruments is a status symbol of Physician and Surgeon so is a Lens and Measure Tape to a Autopsy Surgeon
"We secients are suffering from scientific arrogance". "Every scientific discovery or work done by "Good Man" aimed at the service of humanity also excites a devil in others, to use it against the humanity".

Humans you are warned " Do not go against the order of nature, nature will punish you "
Giovanni Morgagni
Those who have dissected or inspected many bodies have at least learned to doubt, while those who are ignorant of anatomy and do not take the trouble to attend to it, are in no doubt at all.
Harvey Little John

There is only one path to the mastery of Forensic Medicine, and That is An Extensive Practical Experience
Forensic proverb
Seldom say never, seldom say always!
Braouardel & Jasolin
An operation during life is attended by pain and is for the benefit of the individuals.
An operation after death is free from pain and is for the benefit of humanity.
---
Contact Details
Address for Communication
Prof. (Dr.) Heeresh Chandra
Arera Colony, Bhopal - 462 016.
Madhya Pradesh - India
Email
to Prof. (Dr.) Heeresh Chandra at : heeresh@bom6.vsnl.net.in
You are Visitor No: